The Date of Birth of Bulgaria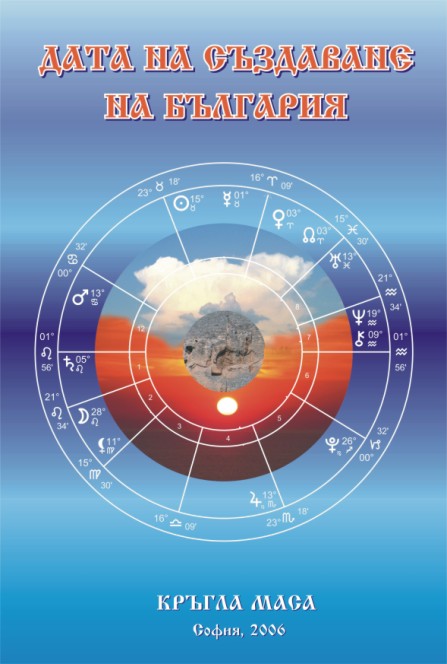 After two years of preparation, the book "The Date of Birth of Bulgaria" appeared on the shelves of the bookstores in 2009. The book contains the reports of four prominent Bulgarian astrologers, each one of which presents its version about the date of birth of Bulgaria.
The four astrologers presented their reports first on a round table, organized in Sofia in 2006. I was one of them. My report supports the chart, proposed by the rector of Moscow Academy of Astrology Dr Michail Borisovich Levin. According to this chart, the exact moment when Bulgaria was first established is 24th of April 680 AD, at 11.56 PM LMT in Pliska, Bulgaria.
In my report I analyse hundreds of important historical events. The unprejudiced reader can clearly see for himself that every time an important event happens in the Bulgarian history, there is an obvious direct correlation between this event and the secondary progressions and transits in the astrology chart of Bulgaria. Valuable information can be extracted also from the Jupiter and Saturn cycles, as well as the periods when these planets are stationary or in a retrograde movement. The influence of the "heavy" planets Uranus, Neptune and Pluto is also taken into account after the respective dates of their discovery. In such a way I have proven that this chart worked consistently for every event of Bulgarian history during the last 1400 years. It works very accurately even today and no doubt it can be reliably used as well in the future.
Therefore, the experienced astrologer can derive impeccable prognostications for any future trends for this country, based on this astrology chart.
The value  of this book lies in the fact that it compiles in one place the accumulated experience of many years of research on this topic. It contains systematic astrological, esoteric and historical research. Its aim is to discover the exact date and time of a spectacular historical event. This event is separated from us by centuries in time. Nevertheless, its exact occurrence is extremely important even today, as it directly affects the trends in the lives of all the people who live in Bulgaria, or who are related in any way to this country. The book can be used also as a manual of mundane astrology, because it contains rich and comprehensive  material for those who want to delve into this topic in greater depth.
The work of Philip Filipov in the preface about the sculptured, bronzed seven-rayed rosette, found in Pliska and dated VII – IX century deserves particular attention. Also Rumen Kolev's contribution about Babylonian astrology is extremely interesting. Some of  the stated facts and conclusions in those works are extraordinary and sensational. This book has a long-lasting value. It cannot be diminished with time. Based on it, the unbiased readers  will be able to draw their own conclusions about the validity of each of the proposed charts. After reading it it will not be difficult to do so, even if one is not familiar with astrology. In this sense, the astrology chart reflecting the true date of birth of Bulgaria will prove itself over time. The contents of the book is  given below:
PREFACE:
Story of an event – Objectives………………………………………………………………………………………………………………………………………………7
Establishment of a Country – A Moment from the World's History………………………………………………………………………………………..9
Mundane Astrology – Short Presentation ………………………………………………………………………………………………………….. …………….12
Contribution of Babylon mundane astrology –  the roots of development
of science of the sky – author Rumen Kolev   ……………………………………………………………………………………………………………………12
Calendars adjustments, the differences between the Julian and the Gregorian calendars………………………………………………..19
Important dates in history …………………………………………………………………………………………………………………………………………………21
List of major historical events in Bulgarian history ……………………………………………………………………………………………………………..21
List of the Bulgarian khans and years of their rulership …………………………………………………………………………………………………….23
Importance of planets in mundane astrology ……………………………………………………………………………………………………………………24
Interpretation of signs in mundane astrology…………………………………………………………………………………………………………………….25
Interpretation of houses in mundane astrology…………………………………………………………………………………………………………………26
Interpretation of planetary cycles ……………………………………………………………………………………………………………………………………..27
Interpretation of aspects – mundane cycles ……………………………………………………………………………………………………………………..29
Interpretation of the New Moon in mundane astrology ……………………………………………………………………………………………………..29
Interpretation of the New Moon in astrology houses ………………………………………………………………………………………………………..30
Interpretation of the New Moon in zodiac signs ……………………………………………………………………………………………………………….30
Interpretation of Solar and Lunar eclipses ……………………………………………………………………………………………………………………….31
Interpretation of the Sun entering cardinal signs  …………………………………………………………………………………………………………….31
Rules for construction and interpretation of basic mundane charts ………………………………………………………………………………….32
Application of analytical methods for  prognostication ………………………………………………………………………………………………………33
List of  astrological chart of other countries ………………………………………………………………………………………………………………………35
Description of the different methods for prognostication ………………………………………………………………………………………………….36
Choice of astrological software  ……………………………………………………………………………………………………………………………………….37
HISTORY  ……………………………………………………………………………………………………………………………………………………………………….39
Scientific paper about the meaning of the seven-rayed bronzed rosette,
author Philip Filipov ………………………………………………………………………………………………………………………………………………………….40
Excerpts from chronicles ………………………………………………………………………………………………………………………………………………….49
Selected quotes from the discussion forum "Astrology" on www.all.bg   …………………………………………………………………………..40
List of authors and books about Bulgarian history  …………………………………………………………………………………………………………..55
THESISIS:
Adriana Votey – Chart of Bulgaria for July 22, 681 ……………………………………………………………………………………………………………59
Nikolai Radev (Aldebaran) – "Birthday" of Bulgaria ………………………………………………………………………………………………………….108
Trifon Nikolov – Study of Bulgaria's chart …………………………………………………………………………………………………………………………129
Lubomir Dimitrov Tchervenkov – The primordial ethnic astrology chart as opposed to astrology chart of a country – and why that type of a charts works so much better on the example of Bulgaria's primordial ethnic chart – 24th of April 680…………144
Interview with Michail Borisovich Levin – Rector of the Moscow Academy of Astrology ……………………………………………………216
Addendum 1 – Analysis of the first Round table ……………………………………………………………………………………………………………..227
Addendum 2 – Second Round  Table – conditions for participation …………………………………………………………………………………231
Addendum 3 – Analysis of the Second Round table  ………………………………………………………………………………………………………235
Addendum 4 – Bulgarian rulers  ……………………………………………………………………………………………………………………………………..239
Publisher "Propeller"
ISBN 9789543920259