Natal Report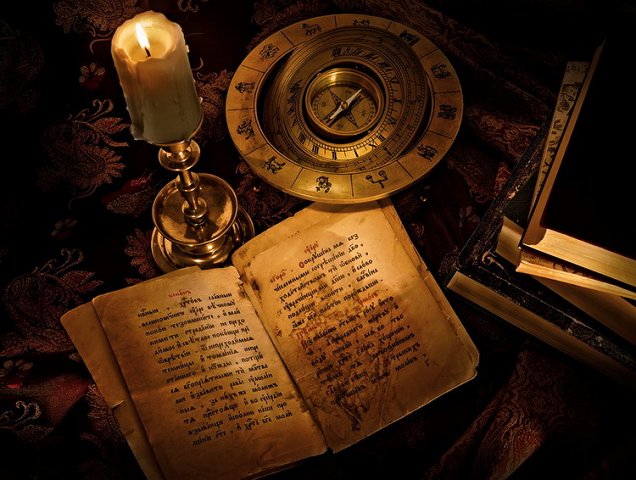 The natal report is essentially the life book for the person in question, according to the date, time and place of birth. It outlines the strengths and weaknesses of the individual in all possible spheres of life. The report is not about predictions, but about self-knowledge. With the self-knowledge comes the greater awareness and therefore the willpower to overcome the weaknesses in one's character. This is how through astrology one becomes a true master of his or her own faith.
Your personal, natal report comes as a beautifully presented pdf file, containing your birth chart, tables and in depth interpretations. The calculations are done employing the latest professional astrological software. Most of the interpretations are taken from my book "Introduction to Western Astrology", published in 2010. The interpretation part of the report is not less then 35 pages. Everything included in the interpretational part is thoroughly considered, based on more than 15 years of studying and practising astrology. In addition to the interpretation part, I include some explanatory text in the beginning of each chapter, which allows you to gain greater understanding about astrology in general and on what basis your personal interpretations were done. I always spend considerable time personalising each chart and usually it takes me about a week to conclude a natal report.
The birth chart is a wheel, depicting the exact position of all the planets in the signs of the Zodiac, their house positions and aspects that they formed in the precise moment of your birth. The input data, which I require in order to begin working on your natal report is your date, time and place of birth. Usually it is sufficient to know your time of birth plus minus 30 or 60 min. If you don't know your time of birth at all, then you can arrange a preliminary half-an-hour consultation via skype, so that I can determine your time of birth, before I commence work. This process is called rectification. At the moment of birth the planetary positions imprint their mark on the individual's face and over the time I learned how to match the calculated chart with the real person in front of me. Also, some calculations are done in reverse, i.e. the timing of some important events of your life, such as marriage, birth of children, accidents and so forth can lead to your exact time of birth.
The natal chart is your life book. It is an objective and impartial description of your character. It outlines your strengths and weakness and points out any possible psychological problems that you might have. Many people live their lives without even knowing the hidden subconscious forces that are driving them through life. The only effective way to fight the deep-rooted, psychological, negative tendencies is to bring them into the conscious mind. The most difficult part in defeating a psychological problem is recognising it. In this respect the personal, natal report is irreplaceable and the amount of good it can do to people is unmeasurable.
Maybe not everything that you will find in your natal chart will be entirely to your liking. You will like some of the traits described there but some of them you won't. However, you should take an objective approach and observe yourself as scientifically and unemotionally as you can, as if another person is looking to yourself from aside. As the scientist does not jump from joy or tear his clothes in despair every time when observing an external physical process, so you too should not label immediately anything that you read in your chart as 'good' or 'bad'. If you want to obtain the maximum benefit from your natal, astrology chart you should just acknowledge impartially and without prejudice the traits described there and let them sink into your consciousness. Later on, if they serve you good for the objectives that you have in life (which also will be outlined in your natal, astrology  report), then you can use them as your strong points, but if not – you may have to work on them in order to modify or change them. Bear in mind that in this process your objectives in life may be altered and your perceptions about what is 'good' or 'bad' about you may change too!
To order your natal astrology report, please chose one of the payment methods, given below. The quickest way is to order online via Pay Pal. If you don't like using online forms, please drop me a line with your details to info@Lubomir.name and I will send you a personalised Pay Pal invoice. Once you place your order, it usually takes me not more than 10 business days to prepare it. Once ready, I will send your report via e-mail. After  you read your report, you may wish to ask me some questions. For this reason, with this service you have a free one hour astrology consultation with me via Skype, up to three months after I have sent you your report. Please, Contact me to arrange the details.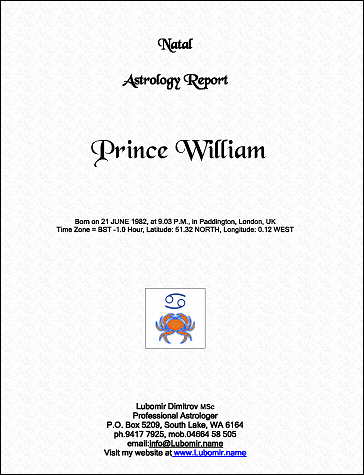 Prince William By clicking on the link on the left you can download a sample electronic version of the natal report of Prince William. Since it is provided here exclusively for demonstration purposes and also in order to shelter the privacy of the Prince, only few excerpts of the actual personal interpretation part are included in this report, which otherwise comprises 39 pages. However, I believe that this file will give you a fairly good idea about how my natal reports look like and what type of information it contains.
The cost of the natal report is AUD 350. You can use the currency converter at the very bottom of this page to check how much is this amount in your currency by the rate of the day. The natal report includes a one hour FREE follow-up consultation via Skype (save another AUD 195). The service includes your personal natal report, comprising about 40 – 50 pages of detailed interpretation of every area of your life, plus one hour FREE follow-up consultation. During the consultation you can ask me any questions that you may have about the report or about any other people, which are close to you, or about any other topic that you may wish to discuss. The consultation should be taken up to 3 months after you have received your natal astrology report.
TO ORDER YOUR NATAL ASTROLOGY REPORT:
Enter your name, date of birth, place and time of birth in the fields below. Fill in your e-mail address and click on the button to pay securely with PayPal